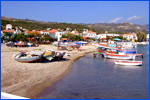 Samos island

Samos Island is situated on the South East of the Aegean Sea, opposite the western coast of Asia Minor. Samos is considered one of the most beautiful islands in Greece. What distinguishes Samos from most of the other Aegean islands is that it is wonderfully green. A large proportion of the island is covered with virgin pine forest, olive groves, plane trees and of course vineyards. Samos also boasts endless beaches (coast line of 160 Km), clear water bays, and two mountain ranges with traditional upland villages and with friendly and courteous people.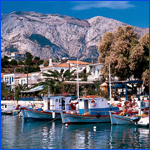 Samos combines a long history- Pythagoras, Aristarchos, Epikouros were born here- with tradition and natural beauty, and so it is an ideal place to take holidays.
The area of the island is about 477 Km2 and its population is 34000. The capital town, Samos or Vathi, located on the North Eastern side is very beautiful with a natural port, neoclassic architecture and historical Churches. Here is also situated the archaeological museum which houses many artefacts, collections of Archaic sculpture, pottery, bronzes, ivory objects, woody items and clay figurines. The most important item in the archaeological museum is the colossal Kouros; a 5,50m height sculpture of a young man. The second biggest town is Karlovassi, found in the North West side of the island. Karlovassi is a commercial port with a lively student campus of the University of the Aegean. Visit the old quarter, Paleo Karlovassi, the pottery workshops, the Potami Beach and the waterfalls.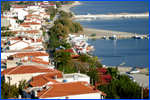 Mount Kerkis is the highest peak in Samos and the second highest peak in the Aegean, with an altitude of 1437 meters. Mount Kerkis has beautiful areas of wilderness, and from its peak there are unbelievable 3600 views of the Cyclades and Dodecanese. Mount Kerkis can be climbed but requires extreme care. It's important not to attempt the climb alone, even if you are an experienced walker. Mount Karvounis at the centre of the island with an altitude of 1160 meters can be reached easier and enjoyed by persons of all ages. Both mountains offer beautiful villages to explore like Platanos, Manolates, Vourliotes, Drakei, Nikoloudes; and numerous monasteries like Timios Stauros, Megali Panagia, Zoodohos Pigi, and Evagelistria.
The prefecture of Samos also includes the islands Ikaria and Fournoi, which can be easily reached. In fact Samos has regular ferry links with these islands but also with Piraeus, Dodecanese, Chios, Lesbos, Rhodes, Crete, Thessalonica and Koussadasi on the near coast of Turkey. There are also regular ferries to Patmos, the Jerusalem of the Aegean, with the cave of Revelation and the castle-like monastery of St.John. Additionally, there are frequent ferries to Ephesus in Turkey with the famous archaeological excavations and the wonderful theatre.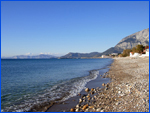 Ormos

Ormos is a very pretty and peaceful, traditional fishing village in the South West coast of Samos. Here life is concentrated around the harbour, which is full of old and new fishing boats.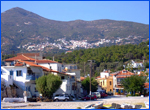 Ormos was one of the most important ports of the island but it was destroyed during World War II. The port was rebuilt but hasn't regained its old glory. The 200 residents live and work here year-round and that adds to the village's charm. You'll see people working and children playing, while everybody going on about their business. You will experience the everyday life of hospitable and friendly people living in harmony with their island.

... top